WARNING
The www.fondationppr.org website is optimized for the following browsers: Mozilla Firefox, Safari, Internet Explorer 7 and 8. Internet Explorer 6 won't allow you to see it properly.
Please contact your technical support.
Where we work
Where we work Click the map to learn about the PPR Foundation's work around the world... More info
Blog actualités
Three Spotlighting Women Documentary Award winners presented at the 25th edition of the International Documentary Film Festival Amsterdam (IDFA)

The 25th edition of the International Documentary Film Festival Amsterdam (IDFA), one of the world's leading documentary film festivals, will present 250 films from 14-25 November, 2012.
On this occasion, three documentaries rewarded by PPR Foundation for Women's Dignity & Rights and the GUCCI Tribeca Documentary Fund will be screened:
To learn more about Spotlighting Women Documentary Award, click here
The French association Femmes ici et ailleurs launches a new magazine, « Femmes en résistance »
What if Women's Rights established itself in the media? That's the ambition of "Femmes en résistance", the new French magazine co-launched with Pierre-Yves Ginet, a photojournalist: highlighting those who fight to put an end to violence against women, whether domestic, economical or societal. N°0 issue gives a voice to Razan Ghazzawi, a Syrian blogger, Ni Yulan, a Chinese lawyer, and to many other women, from here or elsewhere, anonymous or famous, who make things change.
This first edition in French is exceptionally available online for consultation
Mark the first International Day of the Girl on 11 October
Take part in the different special events organised around the world to combate for girls' rights: take a photo and send it on Facebook, draw on Paris'walls, or join the initiatives proposed by the World association of Girl Guides and Girl scouts: you are invited to create "The World we want for girls" online.
Subscribe before 10 October to take a 2-week Solidarity Leave to the benefit of NGOs supported by the PPR Foundation
Would you like to build a workshop in Chile, for the weaver of the cooperative Relmu Witral, one of the 2012 Social Entrepreneur Awards winners ? Or would prefer to share your sales and marketing skills with the ENDA El Alto NGO, rehabilitating girls victims of violence in Bolivia ?
The PPR Foundation for Women's Dignity and Rights will organise and finance every mission of PPR employee helping empower women. All the practical info
GUCCI Tribeca Documentary Fund and PPR Foundation's 2011 grantee 'Rafea: Solar Mama' in Premiere Screening at TIFF Docs Conference in Toronto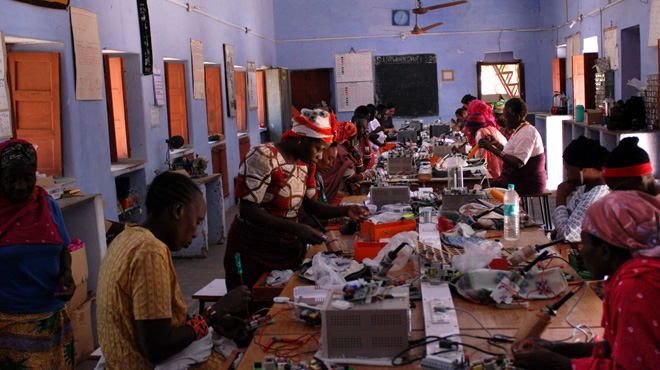 The Toronto International Film Festival's Docs Conference, a high professional conference about the current landscape for documentary, hosted the world premiere screening of Rafea: Solar Mama (aka Barefoot Engineers), available to the public, for the first time these 10 and 11 September 2012.
Directed by Jehane Noujaim and Mona Eldaief, Rafea: Solar Mama follows three women who leave their remote villages to go on a life-changing journey to India with the hopes of becoming Solar Engineers. When they return to their villages, they will wire their communities and turn on the lights.
To learn more about the Documentary