Kering Foundation's Caring for Women Dinner raised over $3 million for organizations committed to ending gender-based violence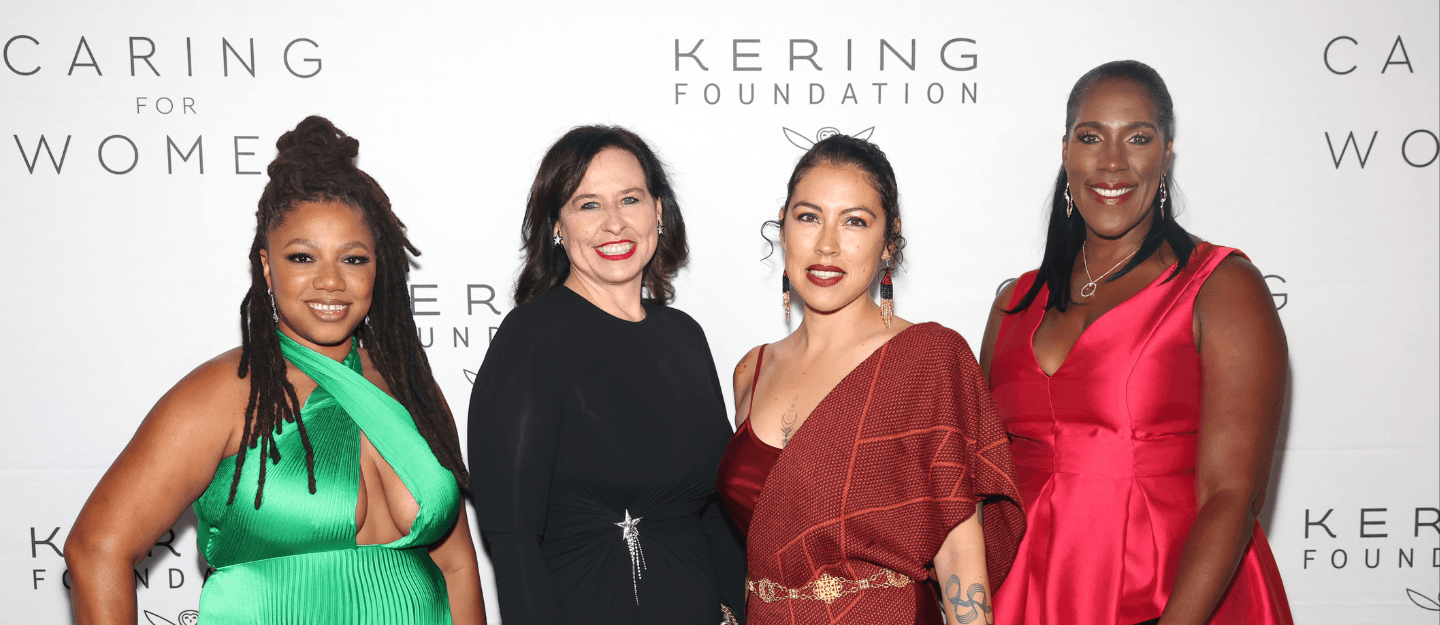 Kiesha Preston (Survivor and activist), Deborah J. Vagins (President and CEO, NNEDV), Sandra Macias del Villar (Program Director, Crisis at the Global Fund for Women) and Teresa C. Younger (President and CEO, Ms. Foundation for Women), September 15, 2022, New York.
On September 15, 2022, leaders in fashion, art, activism and philanthropy united at the Kering Foundation's first-ever Caring for Women Dinner held in New York. The dinner raised over $3 million dollars and benefited the following organizations to address gender-based violence: National Network to End Domestic Violence (NNEDV), Global Fund for Women, Jordan River Foundation (JRF) and Ms. Foundation for Women.
Hosted by Anderson Cooper, the event was co-chaired by Salma Hayek Pinault, François-Henri Pinault, Gisele Bündchen, LaTanya Richardson Jackson, Samuel L. Jackson, Julie Mehretu, Her Majesty Queen Rania Al Abdullah of Jordan, and Gloria Steinem. Additional guests at the gala included Emma Watson, Karlie Kloss, Jodie Turner-Smith, Christy Turlington Burns, Ed Burns, Kat Graham, Adam Silver, Jeremy O. Harris, and many more.
Funds raised benefit 4 organizations that are supporting survivors of violence:
National Network to End Domestic Violence (NNEDV): A leading voice for domestic violence victims and their advocates in the US, NNEDV represents a network of 56 state and territorial coalitions that inform and support survivors of domestic violence and the local programs that serve them. Funds raised support the WomensLaw Email Hotline and WomensLaw.org. These resources help provide free legal information to survivors and inform millions of people annually on topics such as restraining orders, custody, divorce, immigration, and gun laws.
Ms. Foundation for Women: Investing in and strengthening the capacity of women-led grassroot organizations, the Ms. Foundation for Women advances meaningful social, cultural and economic change in the lives of women. Funds raised support the Girls of Color Initiative, which provides grantmaking, leadership development, and capacity building to girls of color living at the intersection of multiple systems of oppression and inequalities in the U.S.
Global Fund for Women: Global Fund for Women shifts resources and power toward women, girls and all marginalized people worldwide. Funds raised support Global Fund for Women Crisis Fund, which works directly with local feminist groups to address immediate needs like food, shelter, and security, and help communities rebuild while addressing the root causes of gender injustice and structural inequalities.
Jordan River Foundation (JRF): The Jordan River Foundation continues to advance safety and welfare for children, equal opportunities, and sustainable growth as it marks the transformation of hundreds of thousands of beneficiaries reached under its Community Empowerment and Child Safety Programs. Funds raised help JRF provide case management and counseling services for women and children who are at-risk or survivors of abuse; as well as a toll-free Family & Child Helpline which offers support, guidance and referral services to women, children and parents.
Chairman and Chief Executive Officer of Kering and Chairman of the Kering Foundation François-Henri Pinault urged everyone in the room to join forces to address the threat of gender-based violence.
"Progress comes when more and more voices come together to say, 'This cannot stand. This must change. This is unacceptable,'" Pinault said.
He also highlighted the need for men to speak up in support of women: "We have not yet reached that critical mass of male voices who speak out against violence. So this must become our priority, along with our support to survivors. This can and should be a defining era for men's solidarity with women. Violence against women was never just a "woman's issue" - it is everyone's issue. It affects every life."
Kiesha Preston, a domestic violence survivor and activist, shared her personal experience and how she benefited from NNEDV, one of the Kering Foundation's partner organizations. "Six years ago I never could have imagined I'd be standing in this room, wearing this fancy dress, and speaking to all of you, because I was in a relationship that broke my spirit, and left me feeling incredibly small," Preston said. "Ninety-nine percent of domestic violence victims experience some form of financial abuse. I felt a responsibility to make sure that what happened to me didn't happen to anyone else."